Skip to main
As seen in "Gundam The Origin" and the original Gundam TV series the red Zaku used by Char Aznable returns in a new package along with new armaments!  
Product Features
5 inches (12.70cm)
Made of plastic
From Mobile Suit Gundam: The Origin
Char Red Comet version
2 Forms of Heat Hawks
Box Contents
Pieces to build

Zaku II (Char Red Comet Ver.)
2 Machine guns
Bazooka
2 Bazooka magazines
Anti-Ship rifle
Heat Hawk extended
Heat Hawk stored

Stickers
Reviews
5 stars
11
4 stars
1
3 stars
0
2 stars
0
1 star
0
100%
of customers recommend this product
Feb 28, 2023
Comin in HOT!
This is an excellent kit through and through, lots of fun to build, and can stand on it's own, literally. Panel Lining really makes it pop and the two tone reds really balance it out. Highly recommended for a HG to anybody, What collection is complete without a Zaku, let alone the Red Comet themselves!
Recommends this product
Review by
Feb 22, 2023
LED MOD Youtube
LED MOD Youtube https://www.youtube.com/watch?v=4blGf85J1Io
Recommends this product
Review by
Oct 10, 2022
Banger Alert
After building an RG Zaku (my 3rd kit overall, but my first inspired by actually watching a Gundam anime) over the summer, I was disappointed by how often the thing came apart, how simply giving it a new pose on my shelf always turned into a 30+ minute ordeal. While this obviously doesn't have the color separation that an RG kit would have, literally every other thing about this kit is better. More weapons, better articulation and poseability, a monoeye that's easier to adjust, and just much less flimsy in general. If I had one complaint, which is more of a complaint of HG Zeon kits in general, are the seamlines on bigger sections of the kit, like the spiked pauldron, or the calf plates, have pretty noticeable seam lines, but this can easily be remedied with plastic cement. If you're a Zeon nerd, this kit is a must-have.
Recommends this product
Review by
- Verified Purchaser
Promotional Material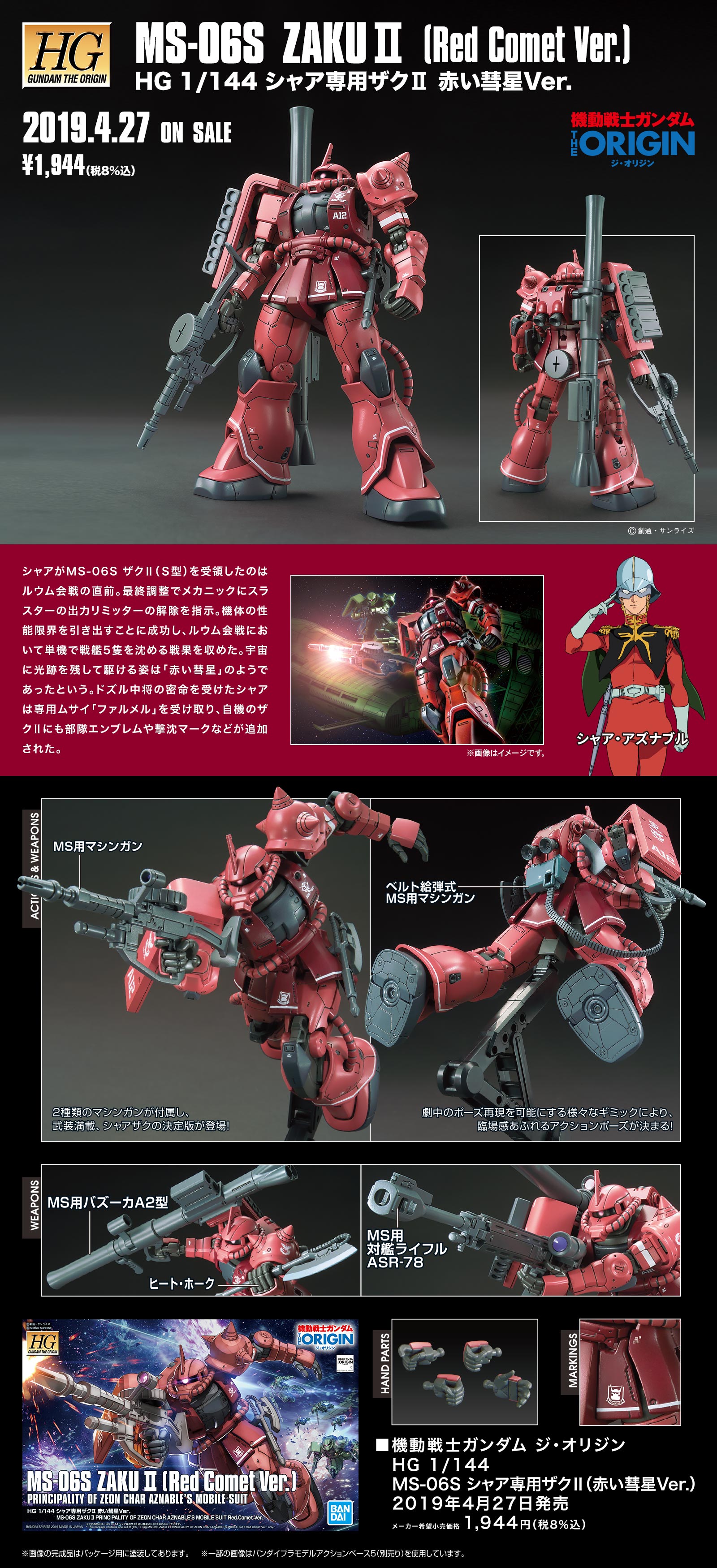 More from Gundam: The Origin
© Newtype LLC 2023 All Rights Reserved